ANNOUNCEMENTS
The 55th reunion survey will close on April 25, 2018.
---

It's Coming!
The BHS Class of 1965 55th Reunion Committee is formed and preparing to plan a reunion in 2020. To help us with the initial decisions, a survey has been prepared to collect the preferences of our class. Please take a few minutes to answer these questions. The survey can be accessed by hovering over the "Surveys" link in the Top Bar right above this message. It is located on the right hand side.
---
What's New
After talking with several of our classmates, I came to realize that many of us are missing a lot of cool stuff. We get a lot of message traffic on our message forum, but did you know that a lot of communication travels under the "What's New" heading. This area is kind of a catch all for a lot of stuff that passes under the radar. I invite you to check this area out. Have fun reading through the past message traffic.
---
Helpful Information
As time passes, the website is programmed to send reminders to all of us. The email reminds us to visit the website and make corrections or additions to our contact and profile information. I have received numerous inquiries on how to do this. It's pretty easy.
At the top of the "Homepage," notice an Icon that looks like a little person. Hover over it and click. In the dropdown menu, notice several links to functions that are available to all classmates. Please keep your data up to date.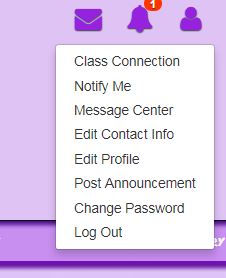 ---