ANNOUNCEMENTS
Profiles
As you visit the class website, please take the time to review and answer new profile questions. As time permits, I will add additional questions. This gives everyone a chance to tell all of us something about yourselves. I encourage anyone who has a suggested question to forward it to me for inclusion in the Profile. Please use the "Contact Us" link to post your suggestions. I will post them as I can. The goal is to generate conversation amongst all of us.
Helpful Information
As time passes, the website is programmed to send reminders to all of us. The email reminds us to visit the website and make corrections or additions to our contact and profile information. I have received numerous inquiries on how to do this. It's pretty easy.
At the top of the "Homepage," notice an Icon that looks like a little person. Hover over it and click. In the dropdown menu, notice several links to functions that are available to all classmates. Please keep your data up to date.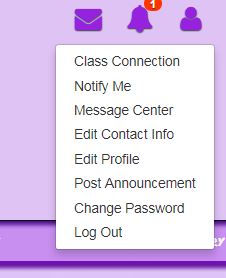 ---