ANNOUNCEMENTS
Fine Tuning
As we contribute to the new profile questions, some of our more computer savvy classmates are adding links to photos, articles, and other supporting documents in their entries. If you click on these links, unfortunately, this will knock you out of Baldwinhs65.com. A common way around this is to hold the <Ctrl> down while hitting <enter>. This should open a separate page, which will not over-ride our website. I'm assuming all browsers recognize this trick. If you are having trouble with this, let me know.
Please do not let this stop you from contributing. The whole idea of this is to promote the sharing of experiences and give a springboard for comments and reactions.
---
What's New
After talking with several of our classmates, I came to realize that many of us are missing a lot of cool stuff. We get a lot of message traffic on our message forum, but did you know that a lot of communication travels under the "What's New" heading. This area is kind of a catch all for a lot of stuff that passes under the radar. I invite you to check this area out. Have fun reading through the past message traffic.
---
Helpful Information
As time passes, the website is programmed to send reminders to all of us. The email reminds us to visit the website and make corrections or additions to our contact and profile information. I have received numerous inquiries on how to do this. It's pretty easy.
At the top of the "Homepage," notice an Icon that looks like a little person. Hover over it and click. In the dropdown menu, notice several links to functions that are available to all classmates. Please keep your data up to date.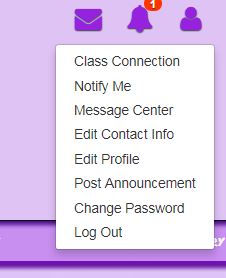 ---